The festival in Prague has traditionally been organized under the auspices of the Jerusalem City Hall and the Prague City Hall. Both the first and the second edition of Days of Jerusalem took place in June – in 2013 in different venues dispersed around the city centre, in 2014 on the Náplavka river bank. With the broad scope of the festival and the diversity of topics and genres, the festival mirrored the popular Days of Prague in Jerusalem in 2012. It was the very first comprehensive manifestation of Jerusalem's culture beyond the borders of Israel.

Festival visitors in the Czech Republic had the unique opportunity to take a closer look at a city which is home to three different religions, learning about the inspiring environment that is home to world-class artist and world-renowned ensembles. Both editions of the festival took place on popular spots in Prague's city centre, receiving great acclaim from the media and the public.

Jerusalem and Prague have a lot in common and share a wide array of common interests. Both cities are stigmatized by being historical cities and both aspire to be innovative and modern. That is why both projects – Days of Prague and Days of Jerusalem, strive to introduce the young and contemporary art scene, helping it develop further. The goal is to show Prague and Jerusalem in a different, unusual light and introduce the cities in all the complexity of their contemporary appearance. This approach allows for new collaborative projects to be created independently on the festival.
Lectures
title: From Spiegelman to Mike's Place
date: 21/6
time: 15:00 – 16:00
location: Stalin
Since the very beginning, Jewish authors have been playing a crucial role in the evolution of comic books and "graphic novels" – their more serious counterparts. Authors like Will Eisner, Art Spiegelman or Joann Sfar have become essential figures in the history of comic book creation, shifting the borders and the scope of possibilities a little bit further. Jewish themes have often been the epicenter of their attention. What is the foundation of their word-wide success? What are the current trends in the contemporary Jewish comic? All these questions will be answered by translator and Hebraist Magdaléna Křížová who will guide the visitors through the panorama of Israeli old and contemporary comics.
(in czech language)
title: The Story of Mike's Place
date: 21/6
time: 16:00 – 17:30
location: Stalin
Mike's Place is the title of a brand new graphic novel which is going to be published simultaneously in the Czech Republic, the USA and France at the end of June this year. The authors of Mike's Place are Koren Shadmi, a Brooklyn-based artist, Jack Baxter, an American documentary film maker and Joshua Faudem, a jerusalem based film maker. Czech comic book enthusiasts will be able to meet Joshual Faudem during Days of Jerusalem because he is one of the festival guests, promoting his new book.
The idea behind the graphic novel is rather unusual and putting the story to life was certainly a great challenge for the authors. The storyline is based on the moving history of the popular Mike's Place bar in Tel Aviv which was targeted by a suicide bomber during the second Intifada.
It all began in 2003 when the American documentarist Jack Baxter decided to film a documentary about Mike's Place beachfront bar, frequented by Israelis, Israeli Arabs and the international community living in Tel Aviv. The bar was a trendy spot, popular for live blues music and good beer amongst visitors and staff. Blues could be heard from the bar's windows every day till dawn. The bar had one unwritten rule: no discussions about politics or religion. It was meting pot where everybody could come to have a beer and forget about the conflict that was raging on the "outside".
In a way, Mike's place offered an escape from the outside reality and then, in 2003 reality hit back. On April 30th, 2003 the tragic incident took place. When Jack Baxter put away his camera for a while, an explosion wrecked the bar. After a failed attempt to destroy the American Embassy, two suicide bombers decided to "try their fortune" elsewhere. Three people died and fifty were severely injured, including Jack Baxter.
(in english and czech language)
The bar's owner, Gal Ganzman, who is the main character of the novel, decided to overcome the tragedy and reopened the bar again in a few weeks. The tragic moment only strengthened his and his team's desire to build a place which would be unique in its multicultural environment. Today, people from all around the world are attracted by the bar's wonderful cuisine, live music and friendly atmosphere.
Despite Jack's Baxter's severe injuries, he decided to finish the documentary, filming people who were affected by the incident. The story of Mike's Place is captured in the 2003 document called Blues by the Beach which was co-created by the Jerusalem film maker and student of the Film and TV school of Academy of Performing Arts in Prague (FAMU), Joshua Faudem. The film received international recognition, won several awards and was highly praised by the reviewers. The authors now decided to give the story a broader background – in Mike's Place graphic novel.
The Mike's Place comic book will be presented on Days of Jerusalem by one of the main characters of the story - the film maker Joshua Faudem.
title: 40 Day Journey to Jerusalem on Foot
date: 21/6
time: 22:15 – 00:00
location: Stalin
In the summer, Ladislav Zibura packed his entire life into a 12 kilogram backpack and set out on a journey to Jerusalem. Without a map and a sense of orientation he walked 1400 kilometres through the baking hot lands of Turkey and Israel to finally reach the Wailing Wall and live the biggest adventure of his life. His journey is a story of mistakes, extraordinary encounters, happy and unhappy accidents, blisters and rashes. You can look forward to a cynical café layabout who will be happy to tell you with a high dose of his kind-hearted but indecorous humour that a pilgrim does not really have to be Catholic, ascetic or boring.
(in czech language)
Dance
title:
White Piece
date:
22/6 (20:00 – 21:00) - Studio Alta Reserve
23/6 (20:00 – 21:00) - NOD Reserve

reservation needed
The dance performance White Piece will be created through the collaboration of choreographer Sofia Krantz, a Jerusalemite, and Czech dancers, during her stay in June 2015 in Pilsen. This way the choreography of the dancer from Jerusalem will be enriched by the energy of a different culture and therefore also a new dance language. The minimalist dance performance for nine dancers is based on the clash of cultures. The simple aesthetics of the performance opens up space for key moral questions. The main partners of the performance are Studio Alt@ and OPEN AiR - Artist in Residence.
Sofia Krantz: "During my stay in Pilsen I would like to explore Czech temperament and way of thinking. In our shared performance, I would like to point out the differences and subtle similarities of our cultures. I believe our collective work and creativity will help enhance the quality and enrich the original choreography, creating a new visual language of dance. In my shows, I usually try to work with information extracted from culture, fashion and art and I look forward to having the opportunity to find new inspiration in Czech culture."
Dancers:
Adéla Petáková, Sylva Šáfková, Kateřina Šírková, Radka Štiková, Tereza Indráková, Monika Částková, Adélka Judasová, Jitka Čechová, Alice Minárová
Film
We would like to thank Radovan Holub and Dan Wolman for their help when putting together the festival's film section.
title: Dancing Arabs
date: 22/6
time: 21:30 – 23:00
location: Stalin
Eyad (Tawfeek Barhom) is a Palestinian boy who's growing up in a distinctively Jewish environment. He constantly observes the activism of some of his teachers as well as that of his own father, who is highly politically active. The youth's identity is further shaped by strong friendships and a problematic love of a local Jewish girl. The fast-paced film with numerous moments of comedy and tragedy comprehensibly illustrates the complicated web of links and emotions in the turbulent region. Eran Riklis' latest film was introduced at the Locarno Film Festival and has been nominated for four annual awards of the Israeli Film Academy so far, including the one for the best actor.
Awards and Nominations:
Awards of the Israeli Film Academy 2014 – Nomination (Best Actor, Best Supporting Actor, Best Art Direction, Best Sound)
(czech subtitles)
title: Farewell Party
date: 23/6
time: 21:30 – 23:00
location: Stalin
The love of Yezekhel and Levana hasn't lost any of its intensity despite advanced age. Yet, in their seventies, the couple lives a content life only until the point when the relationship is disrupted by a series of events strongly affecting their mutual trust and perception of approaching death. A family friend, who is slowly dying in hospital, asks Yezekhel to help him end his suffering, and Levana herself suffers from a progressively advancing illness. Without downplaying the serious topic of euthanasia, death, and old age, the creators combine a dramatic plot with amusingly light tone and black humour, presenting the often taboo issues with ease and without cheap cajolery.
Awards and Nominations:
Venice IFF 2014 – BNL People's Choice Award, Brian Award
Trailer: https://youtu.be/pxAp7F9Dkgg
(czech subtitles)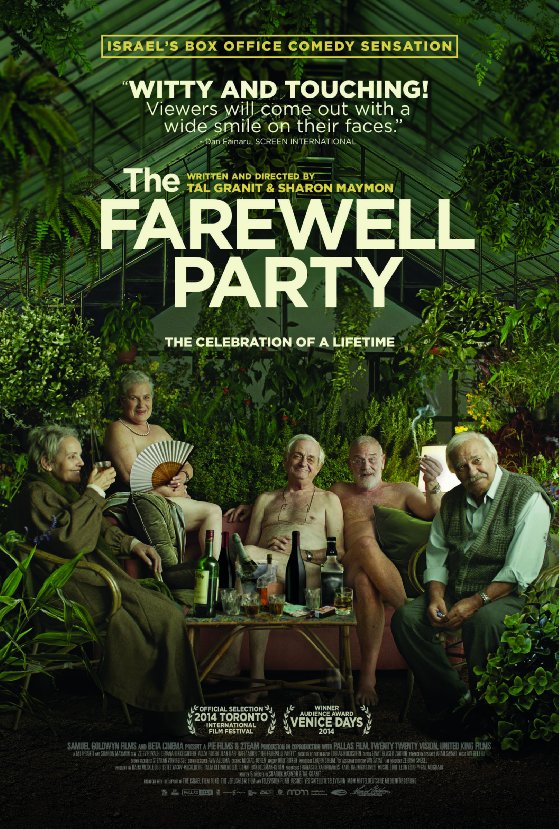 title: Footnote
date: 14/7
time: 21:30 – 23:00
location: Containall
Eliezer and Uriel Shkolnik are eccentric professors who have dedicated their lives to the study of Talmud. Father Eliezer is a stubborn purist, afraid of the system. Nobody has ever praised him for his work. His son Uriel is a rising star in the field, desperately craving for awards and prizes, and always looking for attention. One day, the coin flips and everything changes. When Eliezer realizes that he is to become the recipient of the Israeli Prize, Israel's most important award given for excellence in science, his vanity and hopeless desire for recognition start to show. His son is enthusiastic about his father finally being appreciated but he needs to choose between his career development and his father's prize. Is he going to sabotage his father's fame? Footnote is a successful movie made by Joseph Cedar.
Awards and Nominations:
Oscar nomination. Cannes 2011 – price for the best screenplay
(czech subtitles)
title: Someone To Run With
date: 21/7
time: 21:30 – 23:00
location: Containall
Two young people are on very different missions on the backstreets of Jerusalem in this gritty drama from Israeli filmmaker Oded Davidoff. Seventeen-year-old Assaf is working a boring summer job when he's given a seemingly impossible task -- finding the owner of a lost dog that's been found haunting the streets of Jerusalem. While Assaf has almost no idea of where to begin, by following the dog he begins to find clues that send him on the path to its master. The lost dog belongs to Tamar, a teenage girl who has come to Jerusalem in search of her brother, who fell in with a dangerous crowd among the city's criminal class. Tamar is a gifted singer and guitarist who makes ends meet by playing in the streets, but her impromptu performances attract the attention of Pesach, who claims to look after the city's sidewalk performers. The truth is Pesach is a criminal who charges buskers for the right to perform in the best spots in town and all but holds them hostage in a rundown hostel he's set up from them. As Assaf tries to reunite Tamar with her dog, she finds herself searching for her brother as well as a way out of Pesach's clutches.
(eng/cz subtitles)
title: My Father My Lord
date: 6/8
time: 21:30 – 23:00
location: Stalin
The leader of a small ultra-orthodox community in Tel Aviv, Rabbi Abraham Edelman (Assi Dayan) is absolutely inflexible about doctrine. It's a trait that has won him no shortage of respect from his peers, but it's beginning to cause conflict with his son (Ilan Griff). Little Menahem has a growing fascination with the natural world, and simply can't understand why his father must shoo a mother bird from her nest, or insist that dogs have no souls.
(eng/cz subtitles)
title: Restless
date: 13/8
time: 21:30 – 23:00
location: Stalin
After scraping by in New York for many years, Moshe is finally starting to gain recognition as a poet who recites his texts in a Manhattan bar. The sudden confrontation with his son, whom he abandoned 21 years ago in his native Israel, forces him to re-examine his life and face up to the sins of his past.
A raw yet tender film about a father and his son, and about the elusive quest for redemption, directed by renowned, award-winning Israeli filmmaker Amos Kollek (Fast Food, Fast Women, trilogy Sue, Fiona and Bridget, Nowhere to Go but Up).
(eng/cz subtitles)
Music
title: The Hazelnuts
date: 21/6 (14:00 – 14:45)
21/6 (17:45 – 18:30)

location: Stalin
The Hazelnuts adopt and adapt wonderful songs from the past and present time (including their own originals), exploring old fashioned harmonies and applying contemporary ideas, combining their voices to an extraordinary musical experience and bringing New Orleans and the doo-wop of that golden era to here and now. 

The Hazelnuts have received critical acclaim since they started performing in the summer of 2013, and released their debut EP on March 2014. 


Yifeat Ziv, Shira Z. Carmel and Sapir Rosenblatt, (who are sisters at heart yet come from different backgrounds) met in the Jerusalem Academy for Music and Dance, where they've received their Music B.A in 2014. They write all of the arrangements and original songs themselves, and are proud and happy to introduce with this wonderful harmonious genre.
title: Muhammad Mughrabi feat. REFEW
date: 21/6
time: 21:00 – 22:00
location: Stalin
REFEW - the twenty-one-year-old Refew appeared on Czech scene literally out of the blue. Some people had noticed his Blackcock EP but the biggest boom came later with the debut mixtape called Z místa. It was released in spring 2014 under the Big Boss label. At mere 20 years of age Refew can be proud of his array of guest performers such as Vladimir 518, Orion, Separ, Delik or DJ Wich!
He has been a part of all recent Czech records, he performed at all 16 venues of the massive Heavy Weight Tour, aside from his solo performances. You can also see him on tour with "Mladé pušky", performing with Moozy and the VR/Nobody project. Often nicknamed "Drake from Libeň", he is now working on his debut album called Na kredit.
MUHAMMAD MUGHRABI is a ten year Rapper-Music producer, Born in Jerusalem grew up and lives in the Palestinian Refugee Camp Shuafat in Jerusalem city, Studied Arts & Film in Israel. He uses music as an escape & as advocacy. In 2010, in Mexico he was awarded the Chiuku Prize by MTV Latin America. The young artist works hard & believes in music & Still pursuing his dream of international success. MUHAMMAD MUGHRABI - ZiR does: Hip-Hop/Rap, Deep Electro Dance House Music, World.
REFEW and Muhammad Mughrabi will perform together for the first time as part of the Hip Hop performances. Don't miss this unique battle!
Mike's place
title: Mike's place bar na Stalinu
date: 21/6
time: 17:30 – 18:30
location: Stalin
After the lecture called The Story of Mike's Place, the visitors are welcome to have a drink in the improvised Mike's Place Bar with Gal Ganzman and Joshua Faudem who will be happy to tell you the secrets of Mike's place drinks.
Jerusalem café
title: Jerusalem café
date: 21/6
time: 13:00 – 23:00
location: Stalin
The traditional "Jerusalem café" will be a part of the festival again. Visitors will be able to sample Jerusalem's culinary delicacies, drink fresh lemonades, Jerusalem wine and coffee. They will also be able to sit back and read one of the contemporary, recently published Jerusalem authors – their books will be sold at the café. All that while listening to the Hazelnuts playing live. There will also be lectures on various Jerusalem related topics going on in the café.
Culinary Art
title: Culinary Workshop of Jerusalem Chefs
date: 21/6
time: 13:00 – 14:00
location: Stalin
This year again, you will be able to meet two culinary stars from Jerusalem. We are happy to welcome again the Palestinian Chef Kamel Hashlomon and his Israeli colleague Ilan Garousi. They are both lovers of Prague and tasty Middle-Eastern food.
Ilan Garousi is one of the most sought-after chefs in Jerusalem. For several years he was managing the renowned Jerusalem restaurant Chakra and last year he opened another restaurant called Satya. Together with his equally famous colleague Kamel Hashlomon, they will organize a culinary show full of Middle-Eastern delicacies at the third year running of the Days of Jerusalem festival. They will be present on Letná in the Jerusalem café. Prague's finest gourmets will have the opportunity to learn about the Middle-Eastern cuisine, a true intersection of Arab, Israeli and Mediterranean flavours.
Ilan Garousi was born and raised in Jerusalem and he is always happy to be home. He gained his first professional experience in the Poire et de Pomme restaurant located in the centre of Jerusalem where he started working as the chef's assistant, eventually becoming the chef himself. He has travelled the world, mainly the Far East, looking for inspiration for his own restaurant.
Kamel Hashlomon is a Palestinian chef, also inextricably bound to the city of Jerusalem. He has become world-renowned for his work at the hotel rooftop restaurant St. George located in East Jerusalem. After the second year of Days of Jerusalem he started cooperating with Ilan Garousi's restaurant as a chef. A passionate traveler, he runs culinary workshops throughout the US. and Europe.
The culinary workshop of Jerusalem's chefs Ilan Garousi and Kamel Hashlomon are a unique opportunity to learn more about the secrets of making hummus and other traditional Jerusalem meals. And with the best possible teachers.
(in english and czech language)